Data Services
DeepWell Data Services (DWDS) provides powerful, web-based tools to collect, store, analyze, and report vital data. Clients who administer federal- or state-funded programs, extend across the United States, in government, education, business, and nonprofit sectors.
Unlike generic software packages, that are only partially compatible with a project's needs, DWDS designs custom software specifically for each client's specific project or program. DWDS supplies the tracking tools clients need to successfully manage and evaluate their programs.
DWDS staff takes the time to meet with project leaders, discuss and evaluate their data-tracking needs, and propose solutions specifically tailored to each project to ensure maximum efficiency and ease of use. Because DWDS software applications are web-based, they are flexible enough to adapt to the changing needs of each project.
DWDS software solutions are streamlined and user-friendly. To help clients get the most out of the data-tracking tools, DWDS provides a complete, fully searchable knowledge base of frequently asked questions that detail all the features of each client's software package. In addition, all DWDS software packages come with a built-in web form that allows clients to contact database specialists directly.
A wide variety of tool components are incorporated into DWDS data solutions, including surveys, assessments, contact / email forms, calendars, data-entry forms, document upload portals, case management forms, report cards, Gantt charts, attendance forms, progress blogs, charts, and data gauges.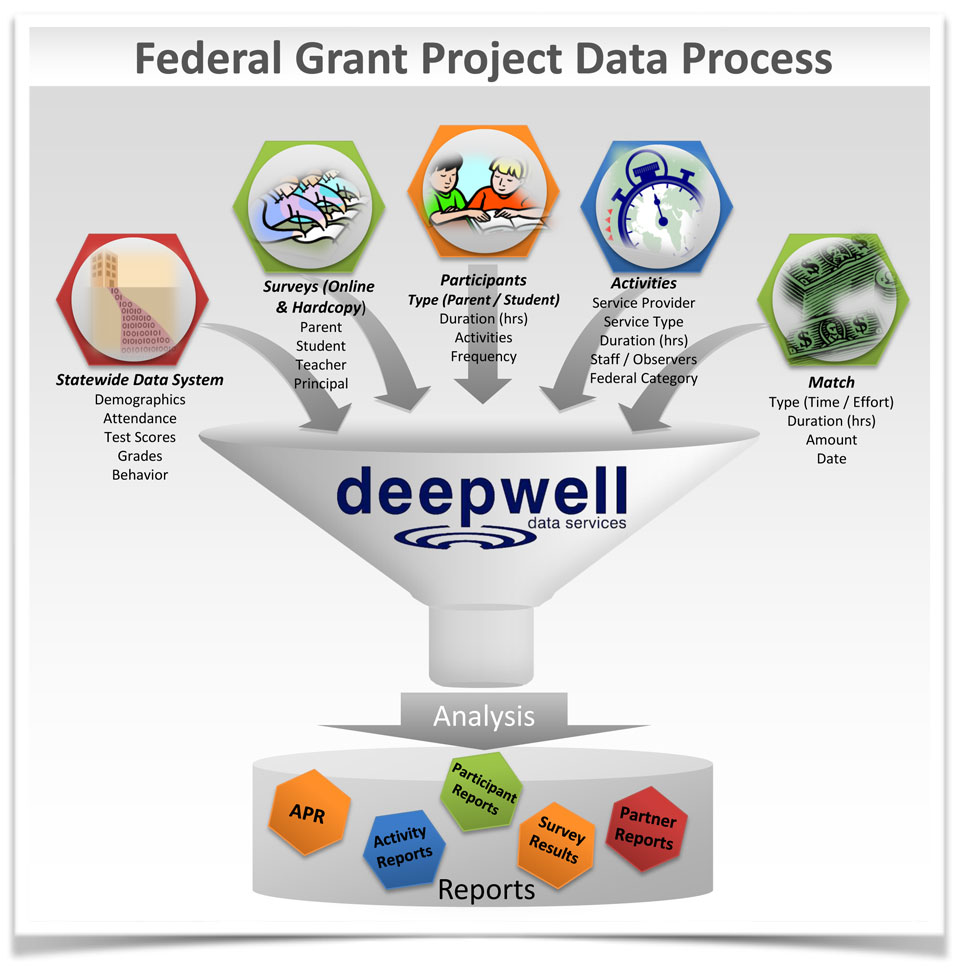 DWDS employs database specialists and expert web-programmers with years of experience. These specialists combine innovative concepts with best practice solutions to ensure that clients' data is managed and protected according to industry standards.
DWDS employees are customer-oriented and make superior service and technical support a top priority.
DWDS's four-step design process:
1. Design
Working closely with clients, DWDS staff propose and draft various software tools that meet both the functionality specifications of client data needs, as well as the look and feel that is appropriate to the individual project.
2. Development
Once DWDS staff design the necessary tools, the design is synthesized into a seamless web-based program that collects, compiles, and reports clients' data in a way that most efficiently furthers the goals of the project.
3. Deployment
DWDS staff work with clients to launch tools across their organization, allowing wide and individualized use of the tools, while implementing custom privacy and access settings designed to protect privacy and mesh with the organization's structure. All tools are built on a web platform so that clients can access them whenever they connect to the Internet.
4. Training
Included with all of software packages is initial on-site training for all users, where DWDS staff can demonstrate the capabilities and functionality of the new data tools to ensure clients can maximize the use of the products.